CEMS Mock Assessment Centre at Job Fair Šance – October 16, 2018

The Master's programme CEMS/International Management taught in English at the Faculty of Business Administration, will participate at Job Fair Šance on October 16, 2018.  This Master's programme placed 9th in this year's "Masters in Management Ranking 2018″ according to the Financial Times, maintaining its place in the top 10 every year since the rankings began in 2005.
10:00 – 16:30  Infostand – 2nd floor RB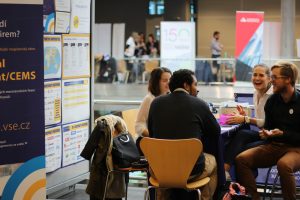 All prospective students are cordially invited to visit the CEMS booth to get detailed information by current CEMS students.
12:45 – 14:15  Mock Assessment Centre – RB 459
For students who are interested in the CEMS programme.
Includes two types of tasks similar to the ones given at the real AC during the admissions.
Organized by Veronika Motlová (Department of Managerial Psychology and Sociology, Faculty of Business Administration).
Registration required – you can register here. Limited capacity (max. 15). Room – RB 459.
Application deadlines for the 2019/2020 intake:
1st intake: Applications open December 1, 2018 and will close February 28, 2019.
2nd intake: Subject to available spots. Applications might open March 1, 2019 and will close April 30, 2019.
Further details regarding the admissions can be found here.