Foreword from the Dean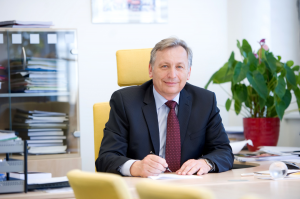 In today´s world, universities focused on economics and management face tough competition. More than 20 public and private business schools offer such education in the Czech Republic and the competition from schools abroad is even stronger. What distinguishes top-class business schools from the average ones? It is a high level of education supported by quality scientific and research, strong relations with the business sector, and intense international cooperation. Top-class business schools recruit the best students while employing excellent lecturers and researchers. Moreover, they develop partnerships with the most successful companies.
The Faculty of Business Administration (FBA) at the University of Economics, Prague aims to be ranked among the most cutting-edge European educational institutions. We strive to prepare outstanding future managers. They acquire excellent knowledge and skills in the fields of management, corporate finance, entrepreneurship, marketing, sales, human resource, logistics, and other areas in order to excel in the
international labor market. To our business partners, we offer cooperation in education, research, and science. Our educators are provided with the space to realise their creative educational and research activities. We primarily focus on the international scale of our activities – education in foreign languages, student and teacher exchanges, and international research projects.
It is an honour for us to be successful in our efforts – which has been confirmed by our EQUIS accreditation, a prestigious global certification that only 1% of business schools have received. It is an honour to be a part of the same community as universities like HEC Paris, the London Business School, the Rotterdam School of Management, or University of St. Gallen. Our reliable standing in the Financial Times rankings is also proof of the quality education we offer.
We look forward to your joining us
Prof. Ivan Nový
Dean of the Faculty of Business Administration